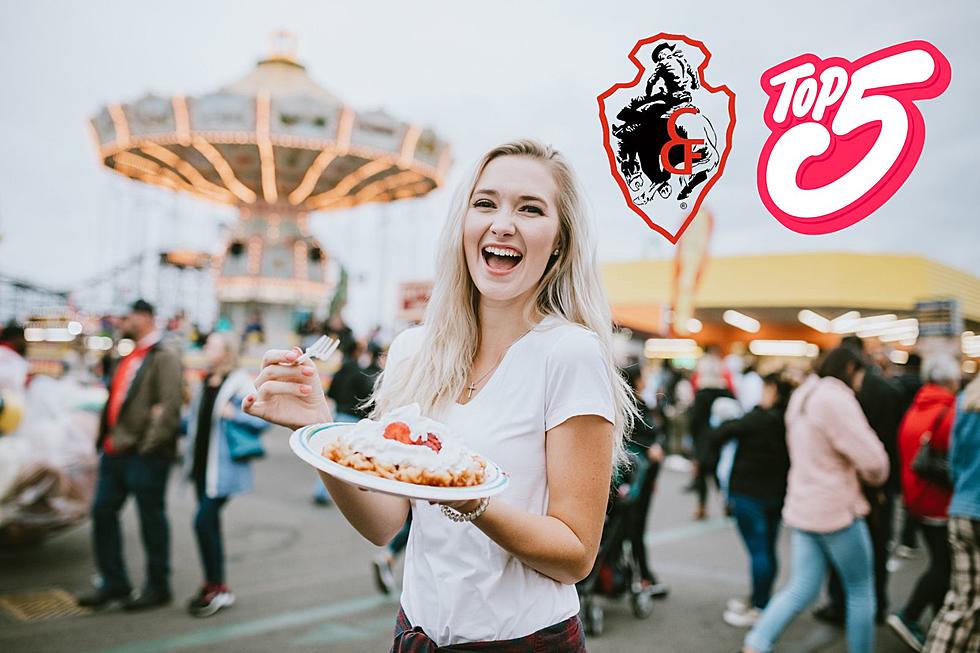 Top 5: This Is The 4th Best Thing About Cheyenne Frontier Days
Canva
It's almost party time across the Colorado/Wyoming border as "The Daddy of 'em all," Cheyenne Frontier Days, kicks off this Friday night! Here's another one of our favorite things about this long-time favorite.
What are The Best Things About Cheyenne Frontier Days?
Cheyenne Frontier Days is one of many summer festivals that brings in huge concerts to the area each summer, yes. But if you ask those close to the event, especially those who are directly involved in making this massive yearly event happen, it's so much more. The amazing acts that play the CFD stage are as good as they get, but Cheyenne Frontier Days is so much more than just massive live shows... While we continue to highlight another CFD attraction this week, let's first take a look at this year's concert line-up::
2023 Cheyenne Frontier Day's Line-Up
Friday, July 21st - Eric Church with Paul Cauthen
Saturday, July 22nd  - Old Dominion with Chase Rice
Sunday, July 23rd - Zach Bryan with Levi Turner (SOLD OUT)
Wednesday, July 26th  - Five Finger Death Punch with Papa Roach and Paws
Thursday, July 27th, Tim McGraw with Kip Moore
Friday, July 28th - Jon Pardi with Carly Pearce
Saturday, July 29th = Cody Johnson with Whiskey Myers (SOLD OUT)
Top 5 Things About Cheyenne Frontier Days
It truly isn't easy to narrow down our 5 favorite things when it comes to CFD, because we love this event so much. There are so many great and special things about this event but for the sake of this countdown, let's talk about number four, the food!
From the pancake breakfasts and chuckwagon experiences to the food around the park, you're sure to find something for everyone at Cheyenne Frontier Days to fill your tummy. They have all of your favorite traditional fair foods, but they also have some food items that you can only find locally at CFD. I had a glazed donut cheeseburger and some Carne Asada fries last year that I've been wanting to try again ever since... And guess what? I finally get to because CFD kicks off in 3 more days!
If you're heading to a CFD show or rodeo, make sure you plan on stopping by the carnival for some tasty snacks and rides. So, what's number three on our top five list? To be continued here...
Every Band That's Ever Played At Cheyenne Frontier Days (UPDATED)
The Daddy of 'Em All is back and today we're looking back at over 50 years of concerts at
Cheyenne Frontier Days
. This list features every main stage musical act on the Frontier Nights stage at Frontier Park in Cheyenne, Wyoming since 1966. Courtesy of Daniel Long with the
CFD Old West Museum
.
LOOK: VIntage Postcards Showing-Off Cheyenne Frontier Days Through the Years
Postcards
have been a thing since the mid-1800s. Sending pictures and short messages on card-stock paper to friends and families really took off in the first half of the 20th century. While not quite as popular today, they still exist, and collecting postcards even has a special name,
Deltiology
.
Postcards were made for a lot of things, like vacation destinations and events.
Cheyenne Frontier Days
was the source of many. On the auction site
eBay
we found a lot of vintage postcards with fascinating pictures of Cheyenne and the Daddy of 'Em All.