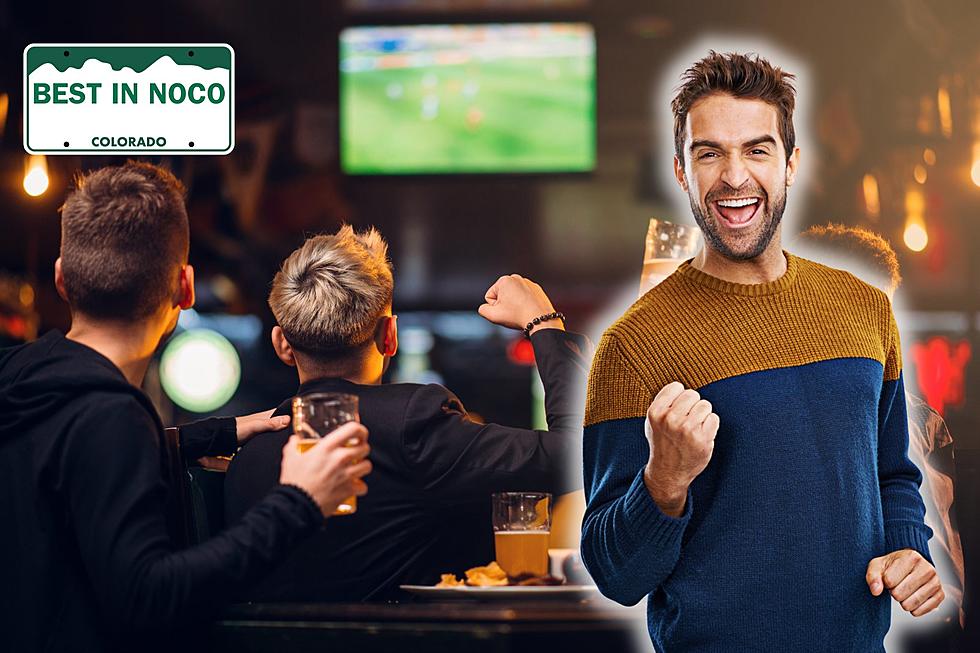 Look: 5 Reasons This Sports Bar is the Best in Northern Colorado
Getty Images // Canva
In Fort Collins, there's no lack of bars that provide people with a great opportunity to catch some of the biggest games. Whether it's college or professional, there are plenty of options that can give you your sports fix in town.
However, there is one that stands tall amongst the rest that not only provides a great atmosphere for watching sports but does a fantastic job at just about everything else to boot.
Back Door Grill, located at 130 W. Laurel St., right next to Colorado State University's campus, has been wowing its patrons since it opened its doors in 2021. The restaurant, whose first location opened in Steamboat Springs in 2014, has quickly established itself as a local favorite for Northern Colorado locals.
Whether you are there to catch the big game or enjoy the atmosphere, here are five reasons why Back Door Grill has become a go-to sports bar in Northern Colorado.
This Fort Collins Sports Bar has Tons of TVs so You Can Catch the Biggest Games
"Great atmosphere with lots of TVs to watch if you are looking for a game" - Ray H. via Yelp
Like any good sports bar, you need to have viewing options everywhere so you see all the action. Don't worry, Back Door has you covered. It has plenty of TVs throughout the establishment, so you can be sure you will never miss a moment of any of the week's biggest games.
The Fort Collins, Colo., Spot Has a Great Selection of Food, But the Burgers Are to Die For
"I can't even exaggerate how good the burgers are here. They have alternatives for allergies and they still taste good. Literal best burgers in the world." - Abs F. via Yelp
The menu consists mostly of classic American cuisine. If you want to get some classic chicken wings, tacos, or even a sandwich, you have plenty to choose from. All of these are great options, but if you're in the market for a great burger, this is absolutely the place you need to be.
Back Door prides itself on using only natural ingredients and Colorado beef to craft its burgers. The extra effort shows because its burgers are definitely some of, if not, the best in town. You also have a ton of options to choose from. Love bleu cheese? Make sure to get the Big Blue. Feeling like getting something spicy? Check out the Dennis Popper. My personal favorite is the Buzz Lightyear, a burger with bacon, fried egg, and avocado. I'm a sucker for fried eggs on a burger, and this is one of the best I've ever had.
Stick Around for Back Door Grill's Fantastic Drink Specials
"Happy Hour every day from 3:30 to 5:30 and then again from 9pm to close...where else do you want to be?! Their bar is fully stocked - you can't go wrong!" - Andrew T. via Yelp
Throughout the year, Back Door has a great happy hour from 3:30 to 5:30 p.m. Not only can you get great deals on drinks, but they also have fantastic deals on food as well.
However, on Tuesdays, it extends happy hour from 3:30 to 10 p.m., giving you all the more reason to go on a weekday.
If you're a huge football fan (like myself), it has got you covered as well.
On both Saturdays and Sundays during the season, you can get $2 Old Aggies and Lonestars, along with $5 Bloody Marys for the entire day. For me, that only makes the choice easier for where I want to watch football.
Did I Mention the Rooftop Patio?
"The Back Door Grill in Fort Collins is great! Awesome location with the coolest rooftop. We have gone almost once a week since their opening." - Rachel C. via Yelp
That's right, not only does Back Door have an awesome setup to watch sports and enjoy great food and drinks, but you can do all of this on their rooftop tiki bar and patio.
For me, this is where I try to go almost every time I make my way over. It has a fantastic atmosphere with great service and shade, along with a bar and plenty of TVs to be able to watch all of the games.
Finally, the Amazing Staff Brings it All Together
"I LOVE this restaurant! Not only for the food and drinks but also for the staff. They are so friendly and kind, I also really enjoy how much fun they genuinely have while serving and bartending" - Ella G. via Yelp
Back Door already has a ton going for it, but it is notable for having some fantastic staff who clearly enjoy what they do. Whether it is the wait staff or the bartenders, you can always strike up a great conversation along with accommodating service that really puts a bow on the entire Fort Collins Back Door experience.
If you find yourself in the Northern Colorado area and love sports, you need to make your way over to Back Door Grill. Not only is it an amazing place to watch all the games, but everything down to the food, drinks, and staff make it a worthwhile experience no matter what you're interested in.
20 NORTHERN COLORADO SPORTS BARS TO CHECK OUT ON GAME DAY
It's time to cheer on your favorite team! Next game day, grab your jersey and ditch the couch - because we've put together the ultimate guide to the 20 best sports bars in Northern Colorado.
25 Northern Colorado Restaurants You Need to Try on Your Next Night Out
Wondering where to eat? Wonder no more. These 25 Northern Colorado restaurants are perfect options for your next night out — whether you're in Fort Collins, Loveland, Greeley, or somewhere in between.