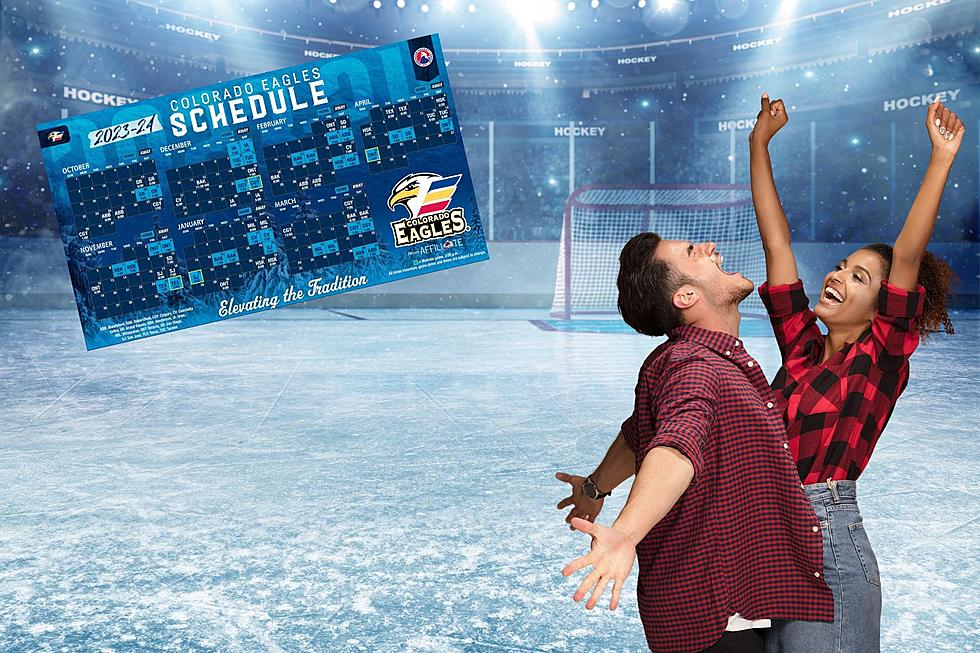 It's Almost Hockey Time: Here's The Entire Colorado Eagles 2023-24 Schedule
Canva / Colorado Eagles
It's hard to believe that it's only been a couple of months since we were celebrating the Colorado Eagles' historic 20th season. While amazing for so many different reasons, it didn't end quite like we hoped it would. The good news is, we're getting closer to the 2023-24 season, and we now have the full 23-24 schedule to make it official.
Colorado Eagles 2023-24 Season Schedule
The Colorado Eagles, proud AHL affiliate of the Colorado Avalanche, will officially kick off their new season when Colorado travels to take on the Grand Rapids Griffins on Friday, October 13th at Van Andel Arena in Grand Rapids, Michigan. Eagles Country will have their first opportunity to see the team on home ice when Colorado hosts Grand Rapids on Friday, October 20th at the Blue Arena (Formerly Bud Events Center).
The Eagles' schedule features a 72-game regular season, with Colorado playing 36 games at home and 36 on the road. The home portion of the schedule will feature 13 different teams paying a visit to Loveland, including a pair of matchups against the Griffins who will be making their first-ever appearance at the Blue Arena.
In addition to the two games against Grand Rapids, Colorado will once again also face the Calgary Wranglers, Milwaukee Admirals, Texas Stars, Coachella Valley Firebirds, Abbotsford Canucks, San Jose Barracuda, Henderson Silver Knights, Iowa Wild, San Diego Gulls, Bakersfield Condors, Ontario Reign, and Tucson Roadrunners at the Blue Arena.
The Eagles will also travel for meetings against the same 13 teams on the road. Click here or see below for the full schedule.
Colorado Eagles 2023-24 Season Highlights Include:
New Opponent:
·        Grand Rapids Griffins
13 Different Opponents Visit Northern Colorado:
        Henderson Silver Knights
        Texas Stars
        San Diego Gulls
        Milwaukee Admirals
        Bakersfield Condors
        Coachella Valley Firebirds
        Grand Rapids Griffins
        San Jose Barracuda
        Abbotsford Canucks
        Calgary Wranglers
        Ontario Reign
        Tucson Roadrunners
        Iowa Wild
Longest Home Stands:
       6 Games (11/24 thru 12/9), (1/12 thru 1/21) & (3/15 thru 3/30)
Longest Road Trips:
      6 Games (2/27 thru 3/9) & (4/2 thru 4/13)
Home Dates by Day:
        Tuesday – 5
        Wednesday – 5
        Friday – 11
        Saturday – 13
        Sunday – 2
The 2023-24 campaign will also mark the Eagles' sixth season as members of the American Hockey League, and with new Head Coach Aaron Schneekloth back in the head chair, we have a feeling it's going to be the best season yet! Go Eagles.
Townsquare Media of Northern Colorado's 99.9 The Point is proud to be your exclusive home of the Colorado Eagles. Hear every game live with Kevin McGlue live on 99.9 FM or the free 99.9 the Point app.
The Famous "Duck Donuts" 1st Colorado Location Is Finally Open
Here's a peek inside Colorado's First Duck Donuts Location.
Take a peek inside the Largest Home for sale in Fort Collins
This home has over 16,000 square feet of living space and is the largest home in Fort Collins that is currently for sale.
10 Things You May Not Have Known About Colorado's Oldest Town
The oldest town in Colorado has been around since the year 1851. The community of San Luis in the San Luis Valley is a small town with a big story. The area around San Luis is home to several Colorado attractions that make exploring the area a fun way to enjoy the summer with friends. Keep going to learn 10 facts you may not have known about Colorado's oldest town.