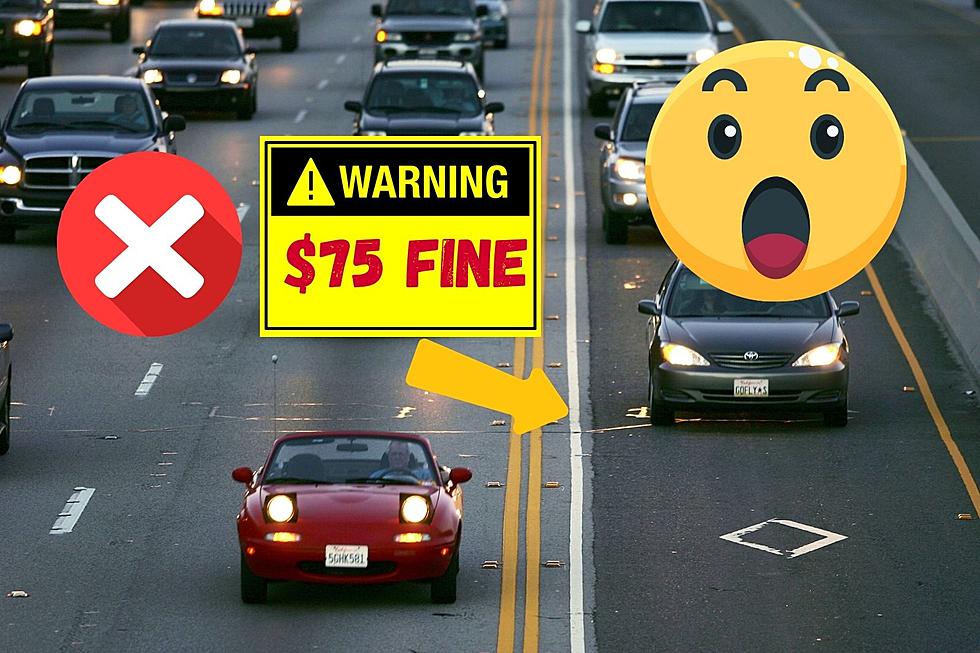 Crossing a Solid White Line On Colorado Toll Roads Will Get You Fined $75+ Each Time
Getty / Canva
No more weaving in and out of Colorado toll roads unless you want to get fined. New CDOT technology can detect you crossing the solid white lines and will now hold you accountable.
Don't Cross Solid White Lines On Colorado Toll Roads Unless You Want To Get Fined
Fortunately, or unfortunately, I guess, my commute to the Radio Stations in Windsor, Colorado, doesn't involve any toll roads. While eventually there will be a toll/HOV option to head north, for now, we either take back roads or sit and curse I-25. Heading south towards Denver though is an entirely different story. Traffic from 144th past Highway 36 is almost always junk on I-25, so that toll road/HOV lane comes in handy if you have the toll transponder and either pay the toll or have three or more passengers in your vehicle. Very convenient. Soon though, breaking the toll laws could start to cost you, even if the police aren't around.
Get Fined In Colorado For Crossing Solid Toll Road Lines
As you know, or should know, crossing the solid white lines to and from the toll roads, or anywhere for that matter, is illegal. It's crazy how many people still do it though. Now, thanks to new technology, when you break that law, it could break your bank account too.
Starting today, September 1st, 2023, new CDOT-implemented technology closely will track drivers on C-470 from I-25 to Wadsworth Boulevard and I-25 from Highway 36 to E-470. For the month of September, if you get busted weaving between the solid white lines, breaking the law in an attempt to avoid the cameras, a warning letter will be sent to you. Starting on Oct. 1, the warning letter period is done, and drivers who break the solid white line law will receive a $75 fine. The fine hikes to $150 if you fail to pay it in 20 days.
No longer can you pass a slow car in the fast lane, or avoid slow traffic by hopping over into the HOV/toll lanes without consequence because you will be fined.
CDOT tested out the new software over the summer on the I-70 Mountain Express Lanes, and nearly 15,000 drivers over just two months were caught breaking this law. Now that that grace period is over, the fines will begin on that stretch of tollways. In the end, don't cross that solid line, unless you're prepared to pay the fine. Your highway patience is about to be tested, and if you fail the test, your pumpkin spice latte budget is out the window. Happy driving! Speaking of illegal... This is ridiculous.
It Is Illegal To Throw These Things Away In Colorado
There are 14 items that should never be thrown out with the trash in Colorado. Check out this helpful list of hazardous waste reminders that should never go in the garbage in Colorado. While some of these items can be turned in on local hazardous waste collection days, six items on this list can get you into big trouble if you are caught dumping them at a landfill.
13 Crazy Colorado Laws That Make No Sense
There are laws everywhere - a lot of them we know about and abide by every day. But, there are others I'm willing to bet you knew nothing about.