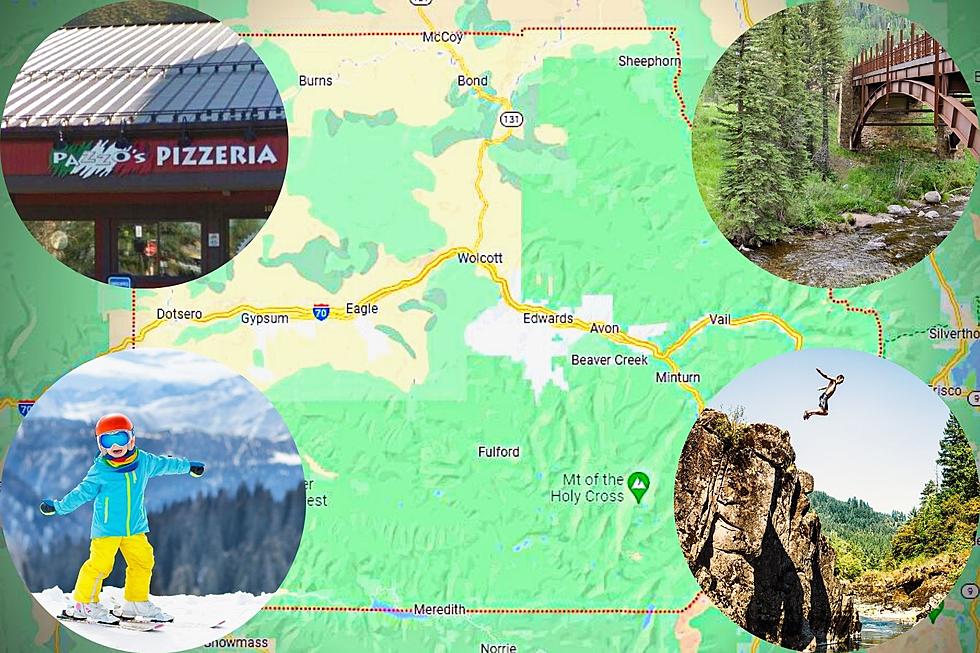 20 Reasons You Know You're From Colorado's Eagle County
Google Maps / Canva
One of the most famous places in the state of Colorado is the ski town of Vail. Located just off of I-70 just west of the Continental Divide, Vail has been a world-class ski destination for many years and only grows in popularity.
That being said, most of the people who work in the area typically don't actually live in Vail. In fact, the people who work at ski resorts like Vail, Beaver Creek, and Arrowhead, typically call towns like Avon, Edwards, Eagle, and Gypsum home.
Because of the uniqueness of living in what's known as The Vail Valley, the locals share a lot of commonalities due to where they grew up that you don't find just anywhere.
Keep scrolling to see 20 reasons you know you're from Eagle County, specifically The Vail Valley.
Reasons You Know You're From the Vail Valley
Some of the reasons you know you're from the Vail Valley are directly related to the town of Vail itself. Staples such as Bridge Street, Pazzo's Pizzeria, and the legendary club/concert venue of the past known as 8150 are all things that people who grew up in the area are familiar with.
People from the Vail Valley also likely began skiing in Elementary School, attended free concerts at Spring Back to Vail, saw movies at the Riverwalk Theater, and definitely know the difference between "up valley" and "down valley," probably associating themselves with either one.
Keep scrolling to see 20 definitive reasons that you, or someone you know, is obviously from the part of Colorado we call Eagle County, specifically, what's known as The Vail Valley:
20 Reasons You Know You're From Eagle County Colorado
There are definite ways to tell when someone is from Colorado's Eagle County, specifically what's referred to as the Vail Valley.
FLASHBACK: Revisit What Vail Colorado Was Like in the 1970s
Take a look at how much different Vail, Colorado was back in the 1970s.
Check Out Some of the Best Pizza Joints in Colorado's Vail Valley
The famous ski resort area of Colorado's Vail Valley has all kinds of great options if you're in the mood for pizza.